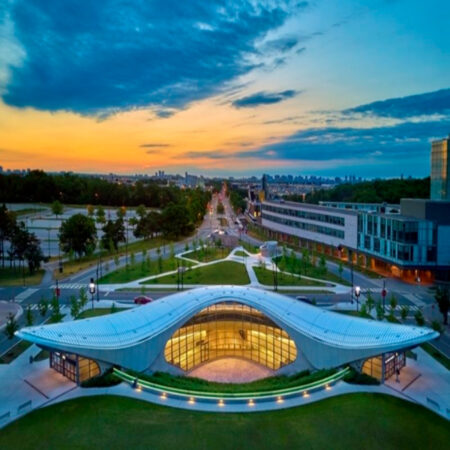 Glendon International Excellence Scholarship 2023 at York University
The Glendon International Excellence Scholarship is available to candidates seeking for admission to York University in Canada for the 2023/2024 academic year. Scholarships for high-achieving international undergraduate students who want to study in Canada are available.
This scholarship is an opportunity that offers $10,000 to qualified international undergraduate candidates. This program is hosted and sponsored by York University, Canada. About 10 recipients will receive the 2023/2024 award valued at $10,000 each and to be channeled towards their first year in a Glendon program, renewable for the same amount each year for full-time studies up to a maximum of 4 years.
York University also known as YorkU or simply YU, is a public research university in Toronto, Ontario, Canada. It is Canada's third-largest university, and it has approximately 55,700 students, 7,000 faculty and staff, and over 325,000 alumni worldwide. It has 11 faculties, including the Faculty of Liberal Arts and Professional Studies, Faculty of Science, Lassonde School of Engineering, Schulich School of Business, Osgoode Hall Law School, Glendon College, Faculty of Education, Faculty of Health, Faculty of Environmental and Urban Change, Faculty of Graduate Studies, School of the Arts, Media, Performance and Design, and 28 research centers. York University was established in 1959 as a non-denominational institution by the York University Act, which received royal assent in the Legislative Assembly of Ontario on 26 March of that year. Its first class was held in September 1960 in Falconer Hall on the University of Toronto campus with a total of 76 students. In the fall of 1961, York moved to its first campus, Glendon College, which was leased from U of T, and began to emphasize liberal arts and part-time adult education. In 1965, the university opened a second campus, the Keele Campus, in North York, within the neighborhood community now called York University Heights.
SEE ALSO: University of Oulu International Scholarships 2023
Scholarship Summary:
Scholarship Sponsor(s): York University, Canada
Host Institution(s): York University, Canada
Scholarship Worth: $10,000
Number of Awards: 10 recipients
Study Level: Undergraduate Students
Nationality: International Students
Requirement and Eligibility Criteria for Glendon International Excellence Scholarship 2023:
Applicants must be international Students admitted to Glendon with top academic standing (80% and higher or equivalent)
Applicants must of demonstrate la level of leadership skill set through community service or excellence in sports or the arts
Eligibility will be based on a letter of recommendation from a high school teacher or school counselor, a complete application including a 300-word statement demonstrating the applicant's leadership attributes and the contribution they will make to Glendon.
To renew this award recipients must maintain a cumulative GPA of at least 8.0 over a minimum of 24 credits taken during a school year (including the preceding summer semester, fall and winter semesters).
SEE ALSO: Nelson Mandela Masters Scholarships 2024
Application Procedures for the 2023/2024 Glendon International Excellence Scholarship (how to apply):
As part of the application procedures, applicants must submit a letter of recommendation from a high school teacher or school counselor and a complete application form. The application is available online at www.glendon.yorku.ca/futurestudents/fees-and-funding/scholarships-and-bursaries.
Application Deadline: Not Specified
For more information about this opportunity, Visit the Official Website.