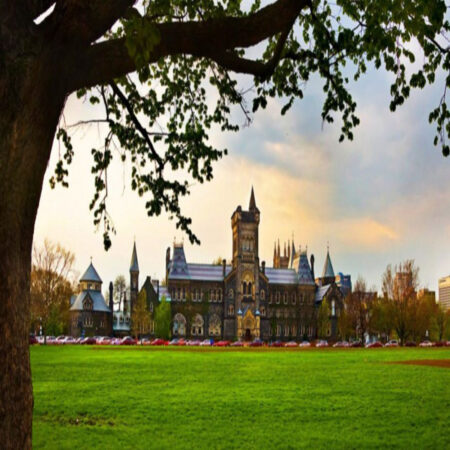 Mastercard Foundation Scholarship 2024 at University of Toronto
The University of Toronto is pleased to offer Mastercard Foundation Scholarship application to interested and qualified African candidates who intend to enroll in Masters degree programs at the University for the 2024/2025 academic session.
This Full Funding scholarship is an opportunity awarded to qualified African Master students. This program is sponsored by Mastercard Foundation and hosted by University of Toronto, Canada. The Mastercard Scholarship is a fully funded scholarship program for graduate studies at Canada's leading institution of learning, discovery, and knowledge creation. Interested applicants are encouraged to take advantage of the opportunity.
The Mastercard Foundation is an international non-governmental organization established by Mastercard in 2006. The organization, which is based in Toronto, Ontario, has supported work in 49 countries. In 2018, Mastercard Foundation shifted to a specific focus on Africa, through its Young Africa Works strategy. The foundation develops programs primarily focused on reducing gender and economic inequality, expanding access to quality education, increasing the opportunities for decent work, and supporting overall economic growth. Funding is primarily managed with bilateral allocations through post-secondary institutions, research institutes, non-governmental organizations and the private sector, plus multilateral allocations through organizations like the numerous United Nations entities under the United Nations Sustainable Development Group.
The University of Toronto (UToronto or U of T) is a public research university in Toronto, Ontario, Canada, located on the grounds that surround Queen's Park. It was founded by royal charter in 1827 as King's College, the first institution of higher learning in Upper Canada. Originally controlled by the Church of England, the university assumed its present name in 1850 upon becoming a secular institution. As a collegiate university, it comprises 11 colleges each with substantial autonomy on financial and institutional affairs and significant differences in character and history. The university maintains three campuses, the oldest of which is St. George, located in downtown Toronto. The other two satellite campuses are located in Scarborough and Mississauga. The University of Toronto offers over 700 undergraduate and 200 graduate programs. The university receives the most annual scientific research funding and endowment of any Canadian university and is one of two members of the Association of American Universities outside the United States, alongside McGill University. Academically, the University of Toronto is noted for influential movements and curricula in literary criticism and communication theory, known collectively as the Toronto School. It is the largest university in Canada in terms of enrollment with more than 97,000 students.
SEE ALSO: Vice Chancellor's International Scholarship 2023 at Griffith University
Scholarship Summary:
Scholarship Sponsor(s): Mastercard Foundation
Scholarship Type: Full Funding
Host Institution(s): University of Toronto, Canada
Scholarship Worth: Not specified
Number of Awards: Several
Study Level: Masters
Nationality: Africans
Requirement and Eligibility Criteria for Mastercard Foundation Scholarship 2024:
Be a citizen and currently residing in a Sub-Saharan African country.
Be graduating or have graduated within the last 5 years from a partner institution of the African Higher Education Health Collaborative and have not yet started studies at the graduate level.
Have demonstrated academic excellence and leadership qualities during his/her undergraduate years.
Be academically admissible to one of the sponsored graduate programs.
Demonstrate a desire and commitment to return home following graduation to contribute to the ongoing economic growth and social development in Africa.
SEE ALSO: UNESCO Young Professionals Programme 2023
Application Procedures for the 2024/2025 Mastercard Foundation Scholarship (how to apply):
Interested applicants for the Mastercard Foundation Scholarship 2024 at the University of Toronto are to follow the under listed steps to apply:
Step One:
Prospective applicants must first consult the admission requirements for their chosen program of study. If you meet the academic requirements of your program of interest, please follow through to step two.
Step Two:
Sign up to attend a scholarship information session and complete the Mastercard Foundation Scholarship application. Ensure that you meet the deadline for submission of the completed application and receipt of all required attachments. If your application for the Mastercard Foundation scholarship meets all criteria and is approved by the Scholarship Admission Committee, you will receive an email to move forward to step three.
Step Three:
Begin your graduate application to the department/program of your interest from the University of Toronto, School of Graduate Studies website. The School of Graduate Studies (SGS) is the central location for graduate applications at the university. Each department and program area will inform you as to the specific requirements of their department and provide you with subsequent dates for the submission of supplementary information. This is an online process that will require you to upload documents to your application. Please follow specifically the instructions of your prospective department once you receive them.
Application Deadline: 15 November 2023
For more information about this opportunity, Visit the Official Website.