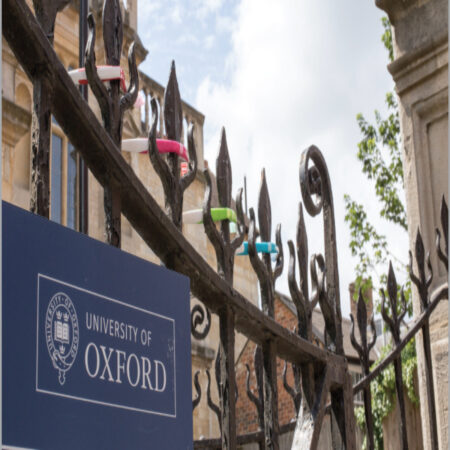 Reach Oxford Scholarship Program 2024
The Reach Oxford Scholarships for overseas students are now accepting applications for the 2024/2025 academic year at the University of Oxford in the United Kingdom. Candidates who are undergraduates may apply to this program.
This Full Funding scholarship is an opportunity awarded to qualified international undergraduate applicants. This program is sponsored and hosted by University of Oxford. A number of Reach Oxford scholarships (formerly Oxford Student Scholarships) are offered to students from low-income countries who, for political or financial reasons, or because suitable educational facilities do not exist, cannot study for a degree in their own countries. The applicant must be citizens of nations who receive official development assistance from the Development Assistance Committee (DAC) of the Organization for Economic Co-operation and Development (OECD).
The University of Oxford is a collegiate research university in Oxford, England. There is evidence of teaching as early as 1096, making it the oldest university in the English-speaking world and the world's second-oldest university in continuous operation. It grew rapidly from 1167 when Henry II banned English students from attending the University of Paris. After disputes between students and Oxford townsfolk in 1209, some academics fled north-east to Cambridge where they established what became the University of Cambridge. The two English ancient universities share many common features and are jointly referred to as Oxbridge. The university is made up of thirty-nine semi-autonomous constituent colleges, four permanent private halls, and a range of academic departments which are organized into four divisions. All the colleges are self-governing institutions within the university, each controlling its own membership and with its own internal structure and activities. All students are members of a college.
SEE ALSO: Eastern Mediterranean University Masters And PhD Scholarships 2024
Scholarship Summary:
Scholarship Sponsor(s): University of Oxford
Scholarship Type: Full Funding
Host Institution(s): University of Oxford
Scholarship Worth: See Scholarship benefits (below)
Number of Awards: Several
Study level: Undergraduate
Nationality: International students
Requirement and Eligibility Criteria for Reach Oxford Scholarship Program 2024:
Must have been offered admission into any of the undergraduate programs at Oxford University
Must possess exceptional academic results and also great leadership qualities.
Applicants should be willing to return to their home country after the completion of their studies.
Applicants who have not studied at an undergraduate level before will be given priority.
Eligible Countries:
Afghanistan; Albania; Algeria; Angola; Antigua and Barbuda; Argentina; Armenia; Azerbaijan; Bangladesh; Belarus; Belize; Benin; Bhutan; Bolivia; Bosnia and Herzegovina; Botswana; Brazil; Burkina Faso; Burundi; Cambodia; Cameroon; Cape Verde; Central African Rep.; Chad; China; Colombia; Comoros; Congo, Dem. Rep.; Congo, Rep.; Cook Islands; Costa Rica; Côte d'Ivoire; Cuba; Djibouti; Dominica; Dominican Republic; Ecuador; Egypt; El Salvador; Equatorial Guinea; Eritrea; Eswatini; Ethiopia; Fiji; Gabon; Gambia; Georgia; Ghana; Grenada; Guatemala; Guinea; Guinea-Bissau; Guyana; Haiti; Honduras; India; Indonesia; Iran; Iraq; Jamaica; Jordan; Kazakhstan; Kenya; Kiribati; Korea, Dem. People's Rep.; Kosovo; Kyrgyz Rep.; Laos; Lebanon; Lesotho; Liberia; Libya; Madagascar; Malawi; Malaysia; Maldives; Mali; Marshall Islands; Mauritania; Mauritius; Mexico; Micronesia, Federated States; Moldova; Mongolia; Montenegro; Montserrat; Morocco; Mozambique; Myanmar; Namibia; Nauru; Nepal; Nicaragua; Niger; Nigeria; Niue; North Macedonia; Pakistan; Palau; Panama; Papua New Guinea; Paraguay; Peru; Philippines; Rwanda; Saint Helena; Samoa; São Tomé and Príncipe; Senegal; Serbia; Sierra Leone; Solomon Islands; Somalia; South Africa; South Sudan; Sri Lanka; St. Lucia; St. Vincent and Grenadines; Sudan; Suriname; Syria; Tajikistan; Tanzania; Thailand; Timor-Leste; Togo; Tokelau; Tonga; Tunisia; Turkey; Turkmenistan; Tuvalu; Uganda; Ukraine; Uzbekistan; Vanuatu; Venezuela; Vietnam; Wallis and Futuna; West Bank and Gaza Strip; Yemen; Zambia; Zimbabwe.
Scholarship Benefits
Course fees
Grant for living costs
One return air fare per year
SEE ALSO: DAAD AgEcon Scholarships 2024 at University Of Hohenheim
Application Procedure for the 2024/2025 Reach Oxford Scholarship Program (how to apply):
Please follow the below instructions to apply;
You must make an application to the University of Oxford for an undergraduate course through UCAS by 15 October 2023, and be successful in gaining a place.
Details on how to apply for a scholarship for 2024 entry will be made available on the official scholarship page in January 2024.
For 2024 entry applicants who apply by the 7 February 2024 scholarship deadline, the selection process will be undertaken in March 2024.
Applicants will be informed of the outcome of their application in April 2024
Application Deadline: 15 October 2023
For more information about this opportunity, Visit the Official Webpage.