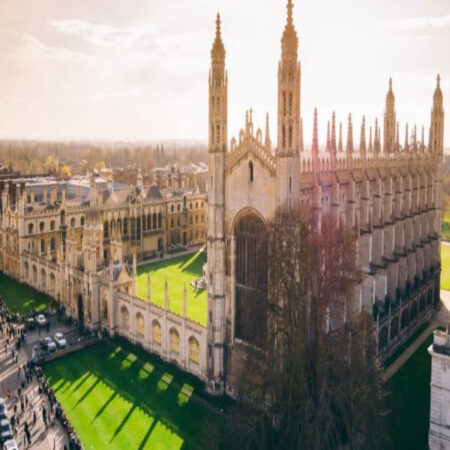 Gates Cambridge Scholarship Application 2024
Applications are currently invited from eligible and outstanding Non UK candidates for Gates Cambridge Scholarship Application for the 2024/2025 academic session.This program is open to Postgraduate candidates who wish to study in UK.
This Full Funding scholarship is an opportunity offered to qualified postgraduate candidates. This program is sponsored and hosted by Cambridge University. To be a beneficiary of this funding program you must complete the section to apply for admission to a course and a College place and the Gates Cambridge part of the funding section. Gates Cambridge has access to the full application for admission and funding when reviewing applications.
The University of Cambridge is a public collegiate research university in Cambridge, England. Founded in 1209, the University of Cambridge is the world's third-oldest university in continuous operation. The university's founding followed the arrival of scholars who left the University of Oxford for Cambridge after a dispute with local townspeople. The two ancient English universities, although sometimes described as rivals, share many common features and are often jointly referred to as Oxbridge. In 1231, 22 years after its founding, the university was recognized with a royal charter granted by King Henry III. The University of Cambridge includes 31 semi-autonomous constituent colleges and over 150 academic departments, faculties, and other institutions organized into six schools. All of the colleges are self-governing institutions within the university, managing their own personnel and policies, and all students are required to have a college affiliation within the university. Undergraduate teaching at Cambridge is centered on weekly small-group supervisions in the colleges with lectures, seminars, laboratory work, and occasionally further supervision provided by the central university faculties and departments.
SEE ALSO: Bank of America Investment Banking Internship 2024
Scholarship Summary:
Scholarship Sponsor(s): Cambridge University
Scholarship Type: Full Funding
Host Institution(s): Cambridge University
Scholarship Worth: See Scholarship Benefits (below)
Number of Awards: Several
Study Level: Postgraduate (Masters and PhD)
Nationality: Non UK citizens
Requirement and Eligibility Criteria for Gates Cambridge Scholarship Application 2024:
Be a citizen of any country outside the United Kingdom.
Be applying to pursue one of the following courses at the University of Cambridge: PhD (full-time or part-time); MLitt (full-time); One year postgraduate course (full-time), with some exceptions
Current student at Cambridge University who wish to apply for a new postgraduate course at the University.
Scholarship Benefits
The University Composition Fee at the appropriate rate.
A maintenance allowance for a single student (£20,000 for 12 months at the 2023-24 rate; pro rata for courses shorter than 12 months) – for PhD scholars the award is for up to 4 years.
One economy single airfare at both the beginning and end of the course
Inbound visa costs & the cost of the Immigration Health Surcharge
SEE ALSO: Clarendon Fund Scholarship 2024 at University of Oxford
Application Procedures for the 2024/2025 Gates Cambridge Scholarship Application (how to apply):
Applicants are to fill an online application and submit their application for admission and funding (Gates Cambridge and other funding) via the University's Graduate Application Portal.
The admission section:
In this section you are applying to a specific graduate course and a College place. You will provide all of the usual details about yourself, your academic background, plans and suitability for the proposed course.
The funding section:
In this section you can apply for a range of funding offered by the University and associated bodies, including the Gates Cambridge Scholarships, which has its own sub-section.
Document Requirements:
When applying for a Gates Cambridge Scholarship you will be asked to provide the following:
Statement: In the application form we ask: "In no more than 3000 characters (approximately 500 words) please explain why you are applying for a Gates Cambridge Scholarship and how you meet the four main criteria. Full details about how to apply, including selection criteria and guidance on completing this statement, can be found at: gatescambridge.org"
Research proposal: Gates Cambridge requires PhD applicants only to submit a research proposal as part of their application for funding.
Gates Cambridge reference: In addition to two academic references for admission, Gates Cambridge applicants submit a reference about their fit with the scholarship.
Application Deadline: October 11, 2023
For more information about this opportunity, Visit the Official Website.