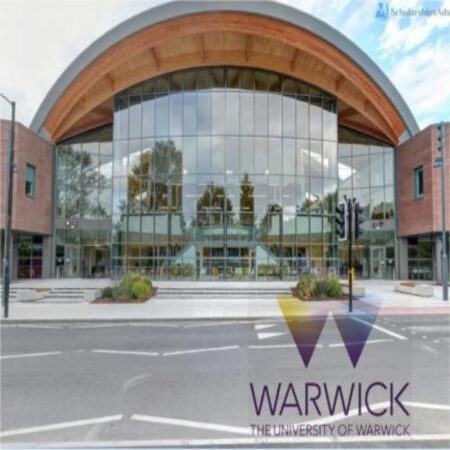 University of Warwick WMG Excellent Scholarships 2023
The University of Warwick is calling for applications from suitably qualified international candidates for the WMG Excellent Scholarships 2023/2024 academic session. This scholarship is available for Masters students who wish to enroll for a program at the University.
This Tuition Award program is partially funded and a 50% of tuition fee is given to qualified master students. WMG will be awarding over £1million in scholarships and bursaries to students commencing study on full-time MSc programs taught within the WMG department at Warwick. This scholarship is sponsored and hosted by University of Warwick, UK.
The University of Warwick is a public research university on the outskirts of Coventry between the West Midlands and Warwickshire, England. The university was founded in 1965 as part of a government initiative to expand higher education. The Warwick Business School was established in 1967, the Warwick Law School in 1968, Warwick Manufacturing Group (WMG) in 1980, and Warwick Medical School in 2000. Warwick incorporated Coventry College of Education in 1979 and Horticulture Research International in 2004. Warwick is a member of AACSB, the Association of Commonwealth Universities, the Association of MBAs, EQUIS, the European University Association, the Midlands Innovation group, the Russell Group, Sutton 13 and Universities UK. It is the only European member of the Center for Urban Science and Progress, a collaboration with New York University. The university has extensive commercial activities, including the University of Warwick Science Park and WMG, University of Warwick.
SEE ALSO: Ferguson Scholarship 2023 at Aston University
If you have a particularly strong academic and/or professional track record and are interested in being considered for a scholarship, please submit your application within four weeks of receiving your offer, in order for it to be considered.
Applications will be reviewed by the scholarship committee on a monthly basis and results will be communicated to you as soon as possible, with the first round of results being communicated by the start of February 2023.
Scholarship Summary:
Scholarship Sponsor(s): University of Warwick, UK
Scholarship Type: Tuition Award
Host Institution(s): University of Warwick, UK
Scholarship Worth: 50% of tuition fee
Number of Awards: Several
Study Level: Masters
Nationality: International Students
Requirement and Eligibility Criteria for University of Warwick WMG Excellent Scholarships 2023:
Applicants must hold an offer to study on a WMG full-time MSc course starting October 2023.
Applicants should have an excellent academic track-record and/or strong professional profile in order to qualify.
For conditional offer-holders, scholarship awards will also be conditional on achieving the awardees final predicted grade.
WMG Excellence Scholarships are for self-funded students only. NB: students with partial bursaries, on scholarship-loan schemes or partially funded by an external organization may also be considered. Awardees should inform the scholarship committee if they are in receipt of another scholarship or are later awarded other funding.
WMG Excellence Scholarships are awarded for study on UK full-time MSc programs only.
WMG Excellence Scholarships are paid towards tuition fees only and cannot be paid in cash or towards accommodation or maintenance costs.
WMG will award WMG Excellence Scholarships across all WMG full-time MSc programs to optimize nationality and gender diversity.
SEE ALSO: Humboldt Research Fellowship 2023
Application Procedures for the 2023/2024 University of Warwick WMG Excellent Scholarships (how to apply):
Applications for this scholarship is done online, Interested persons are to apply by filling and submitting of the online application form made available at the university website.
Application Deadline: Not Specified
For more information about this opportunity, Visit the official Website.