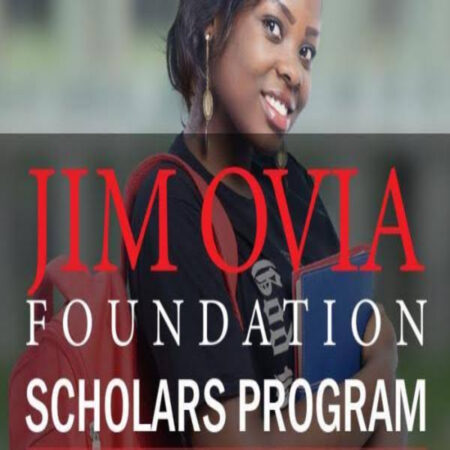 Jim Ovia Scholars Program 2023 for Nigerian Students
Jim Ovia Scholars Program for Nigerian Students is delighted to welcome qualified students who wish to continue their undergraduates & postgraduates studies in Nigeria for the 2023/2024 academic session.
This scholarship is fully funded for undergraduates & postgraduates students and covers tuition and maintenance allowances. This program is sponsored by Jim Ovia Foundation and hosted by Recognized Institutions in Nigeria. The scholarship was previously known as the MUSTE scholarship.
The Jim Ovia Scholars Program was founded since 1998. It is fully funded by Mr. Jim Ovia to provide financial aid to outstanding Nigeria youths.
SEE ALSO: University of Chicago Graduate Fellowship Program 2023/2024
The scheme offers an average of 100 opportunities each year for new applicants while renewing applicants are supported annually, conditional on meeting all eligible requirements of the scholarship. Since October 2010, Mr. Ovia has invested over 100 Million Naira in the program to support 1500 beneficiaries and counting.
In establishing the Jim Ovia Scholarship, Mr. Ovia hoped to create a network of future leaders within Nigeria who can compete globally with their peers, bring new ideas, creativity and are committed to improving the lives and circumstances of people in their respective communities.
Scholarship Summary:
Scholarship Sponsor(s): Jim Ovia Foundation
Host Institution(s): Recognized Institutions in Nigeria
Scholarship Worth: Fully-funded
Number of Awards: 100
Study Level: Undergraduates & Postgraduates
Nationality: Nigeria Students
Requirements and Eligibility Criteria for Jim Ovia Scholars Program 2023:
The scholarship is open to all potential students of Nigerian citizens in a Nigerian institution.
One hundred (100) awardees are selected each year from a pool of eligible applicants.
Scholarships are awarded on the basis of personal intellectual ability, leadership capability and a desire to contribute to society at large to improve the lives of others.
SEE ALSO: Baker Hughes Scholarship 2023 at University of Ghana
Application Procedures for the 2023/2024 Jim Ovia Scholars Program (how to apply):
Interested applicants seeking for Jim Ovia Scholars Program for Nigerian Students should fill and submit the online application form the scholarship program.
Application Deadline: Not Stated
For more information about this opportunity. Visit the Official Website.