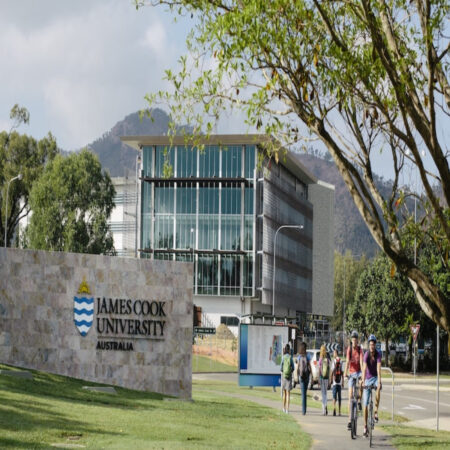 James Cook University Scholarships 2023
Applications are invited from eligible international students for the 2023/2024 James Cook University Scholarships in Australia. Both Undergraduate and Postgraduate candidates are eligible.
This scholarship is a fully funded opportunity awarded to qualified international Undergraduate and Postgraduate students. This program is hosted by James Cook University and sponsored by James Cook University/Partners. In partnership with JCU, some countries offer financial aid programs to students studying abroad. Most financial aid is in the form of a loan that must be repaid upon completion of the study period.
James Cook University (JCU) is a public university in North Queensland, Australia. The second oldest university in Queensland, JCU is a teaching and research institution. The university's main campuses are located in the tropical cities of Cairns and Townsville, and one in the city state of Singapore. JCU also has study centers in Mount Isa, Mackay, Thursday Island and Rockhampton. A Brisbane campus, operated by Russo Higher Education, delivers undergraduate and postgraduate courses to international students. The university's main fields of research include environmental sciences, biological sciences, mathematical sciences, earth sciences, agricultural and veterinary sciences, technology and medical and health sciences. Its was established in 1961.
SEE ALSO: SEOULTECH Foreign Student Scholarship 2023
Scholarship Summary:
Scholarship Sponsor(s): James Cook University/Partners
Host Institution(s): James Cook University
Scholarship Worth: Varies
Number of Awards: Several
Study Level: Undergraduate and Postgraduate
Nationality: International Students.
Requirement and Eligibility Criteria for James Cook University Scholarships 2023:
JCU International Excellence Scholarship: For eligible students from the United States, Canada, Latin America, the United Kingdom and Europe. The JCU International Excellence Scholarship provides a significant tuition fee reduction throughout the entire duration of approved full degree study programs, provided recipients maintain a strong GPA each semester.
JCU International Student Merit Stipend: Open to students from Africa. Payments of A$400 per fortnight to assist with expenses throughout the duration of study at JCU.
JCU Vice Chancellor's International Student Scholarship: Available for all international students. 50% partial fee waiver, and up to a 100% fee waiver for the minimum course duration.
JCU Research Scholarships: Highly competitive scholarships are available to students commencing research degrees at Master or Doctoral level. Open to students commencing research degrees at Master or Doctoral level
Australia Awards Scholarships: Fully funded, long-term awards administered by the Australian Department of Foreign Affairs and Trade that aim to provide opportunities for people from developing countries.
Financial Aid
The following countries have financial aid programs where JCU is registered to administer on your behalf. For more information please click on the respective country links; Canada, Europe and USA.
If your country is not listed here, we encourage you to explore financial aid options directly within your home country.
SEE ALSO: Mastercard Foundation Scholars Program 2023
Application Procedures for the 2023/2024 James Cook University Scholarships (how to apply):
To be awarded the James Cook University Scholarships, you need to start with applying to JCU for study placement.
Some scholarships will be awarded on automatic basis while some requires that students indicate interest.
Application Deadline: Varies
For more information about this opportunity, Visit the Official Website.