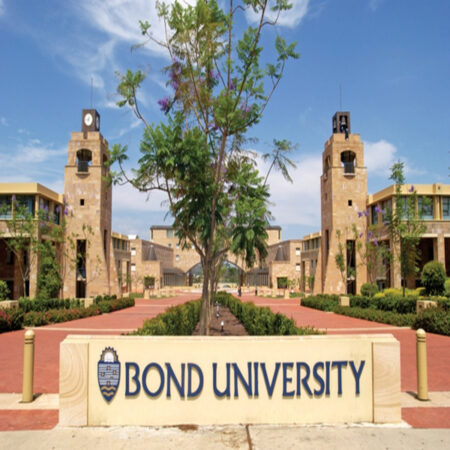 International Undergraduate Excellence Scholarship 2023 at Bond University
Bond University is pleased to welcome suitable qualified international students who wants to continue their Undergraduate program at the university to submit their applications for the International Undergraduate Excellence Scholarship for the 2023/2024 academic session in Australia.
This scholarship scheme varies and successful applicants are given a 50% tuition waiver amongst other benefits of the award. This scholarships are awarded on the basis of academic excellence and are a testament to Bond University's commitment to quality and outstanding undergraduate international students. This program is hosted and sponsored by Bond University, Australia.
Bond University is Australia's first private not-for-profit university and is located in Robina, a suburb in the City of Gold Coast, Queensland. Since its founding on 15 May 1989, Bond University has primarily been a teaching-focused higher education institution featuring a three-semester-per-year timetable.
SEE ALSO: Robertson International Scholarships 2023 at University of Edinburgh
Scholarship Summary:
Scholarship Sponsor(s): Bond University, Australia
Scholarship Type: Tuition Waiver Scholarships
Host Institution(s): Bond University, Australia
Scholarship Worth: Varies
Number of Awards: Several
Study Level: Undergraduate
Nationality: International Students.
Requirements and Eligibility Criteria for International Undergraduate Excellence Scholarship 2023:
Have submitted the Bond University Online Application Form to apply for chosen program. Students applying for Bond University's Medical Program are not eligible to apply for this scholarship.
Have achieved academic excellence in the top percentile from your high school qualification (for example, IB Diploma score of 38 or higher, minimum ATAR of 96) or equivalent.
Complete and submit a scholarship application form by the scholarship application closing date relevant to chosen starting semester. See further details on the scholarship application process in the How to Apply section below.
Not have already commenced undergraduate studies at Bond University.
Those studying English at Bond University College as part of a packaged Offer are still eligible to apply.
Scholarship Benefits
Recipients of the Undergraduate Excellence Scholarship are awarded with 50% tuition remission for their chosen program.
SEE ALSO: EY CSR Scholarships 2023 for 100 Level at University of Ghana
Application Procedures for the 2023/2024 International Undergraduate Excellence Scholarship (how to apply):
Interested applicants can apply for the 2023 International Undergraduate Excellence Scholarship at Bon University as follows;
Students must submit the Bond University Online Application Form before applying for this scholarship.
Once submitted, students can apply for this scholarship using the Bond University Scholarship Application Form. Simply use the same log-in details as used for your program application, and search 'Scholarship' on the Start an Application page.
The form must be completed and submitted online by the application closing date relevant to your starting semester.
As part of your scholarship application, you will be asked to attach a Supporting Statement, Supporting StatSeeTemplate (PDF).
Application Deadline: Varies
For more information about this opportunity, Visit the Official Website.