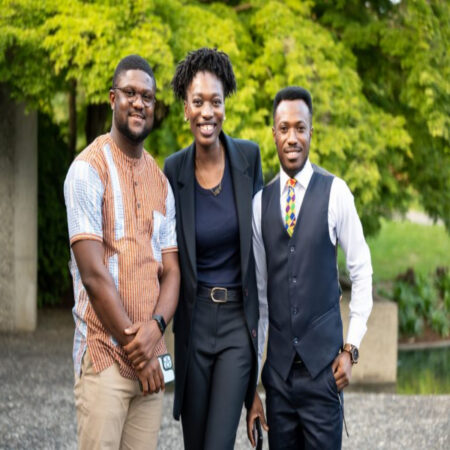 UBC Mastercard Foundation Scholarships 2024
Applications are now open for the 2024/2025 Mastercard Foundation Scholars Program at the University of British Columbia University (UBC), Canada. This program is open to masters candidates.
This scholarship is an opportunity awarded to qualified African masters candidates. This program is sponsored by UBC & Mastercard Foundation and hosted by University of British Columbia, Canada. The Program provides access to education for academically talented, yet economically marginalized young people. Scholars in the Program must demonstrate the commitment to give back to their communities and develop the leadership needed to contribute to social and economic transformation across the continent.
The University of British Columbia (UBC) is a public research university with campuses near Vancouver and in Kelowna. Established in 1908, it is the oldest university in British Columbia. With an annual research budget of $759 million, UBC funds over 8,000 projects a year. The Vancouver campus is situated adjacent to the University Endowment Lands located about 10 km (6 mi) west of downtown Vancouver. UBC is home to TRIUMF, Canada's national laboratory for particle and nuclear physics, which houses the world's largest cyclotron. In addition to the Peter Wall Institute for Advanced Studies and Stuart Blusson Quantum Matter Institute, UBC and the Max Planck Society collectively established the first Max Planck Institute in North America, specializing in quantum materials. One of the largest research libraries in Canada, the UBC Library system has over 10 million volumes among its 21 branches. The Okanagan campus, acquired in 2005, is located in Kelowna, British Columbia.
The Mastercard Foundation is an international non-governmental organization established by Mastercard in 2006. The organization, which is based in Toronto, Ontario, has supported work in 49 countries. In 2018, Mastercard Foundation shifted to a specific focus on Africa, through its Young Africa Works strategy. The foundation develops programs primarily focused on reducing gender and economic inequality, expanding access to quality education, increasing the opportunities for decent work, and supporting overall economic growth. Funding is primarily managed with bilateral allocations through post-secondary institutions, research institutes, non-governmental organizations and the private sector, plus multilateral allocations through organizations like the numerous United Nations entities under the United Nations Sustainable Development Group.
SEE ALSO: University of Huddersfield International Scholarships 2024
Scholarship Summary:
Scholarship Sponsor(s): UBC & Mastercard Foundation
Host Institution(s): University of British Columbia, Canada
Funding Amount: Not Stated
Number of Awards: Several
Study Level: Postgraduate (Masters)
Nationality: African
Requirement and Eligibility Criteria for UBC Mastercard Foundation Scholarships 2024:
Applicants must have completed a Bachelor's degree;
Applicants must not already have a graduate or PhD degree;
Applicants must be 35 years old or younger at the time of application (i.e. born in 1988 or after);
Be a citizen or a refugee of a Sub-Saharan African country (listed here);
Have lived a significant part of their life in a Sub-Saharan African country;
Present economically disadvantaged financial circumstances
Have achieved academic excellence under difficult circumstances
Show leadership qualities or potential;
Demonstrate an interest in and commitment to giving back to their home community
Be a person who requires a Canadian study permit to study in Canada;
Not be a person who claimed or will claim asylum or protected person status after arriving in Canada;
Commit to returning to Africa in order to apply their training and skills to the betterment of others;
Be applying for a Master's degree in one of the following faculties and eligible programs (below) at UBC's Vancouver campus;
Eligible Programs
The following faculties and programs are eligible for the Mastercard Foundation Scholars Program at the University of British Columbia University 2024 (link to each program available at official website);
1. Faculty of Forestry:
Master of Sustainable Forest Management (MSFM)
Master of International Forestry (MIF)
Master of Geomatics for Environmental Management (MGEM)
2. Faculty of Land and Food Systems:
Master of Food and Resource Economics (MFRE)
Master of Food Science (MFS)
Master of Land and Water Systems (MLWS)
3. Faculty of Science:
SEE ALSO: University of Hohenheim DAAD-EPOS Scholarships 2024
Application Procedures for the 2024/2025 UBC Mastercard Foundation Scholarships (how to apply):
Interested applicants who wish to apply for the Mastercard Foundation Scholars Program for Sub-Saharan African Students, should Complete the Mastercard Foundation Scholars Program Application Form online.
Application Documents:
Complete the Mastercard Foundation Scholars Program Application Form.
Submit the Personal Statements.
Submit a CV/resume.
Provide two reference letters.
Transcripts.
Submit the Checklist, Application Form, Personal Statements, CV, two reference letters on official letterhead, transcripts, and signed declaration
Submit the package electronically in a single PDF document via email to mcfsp.admissions@ubc.ca.
Application Deadline: December 01, 2023
For more information about this opportunity, Visit the Official Website.