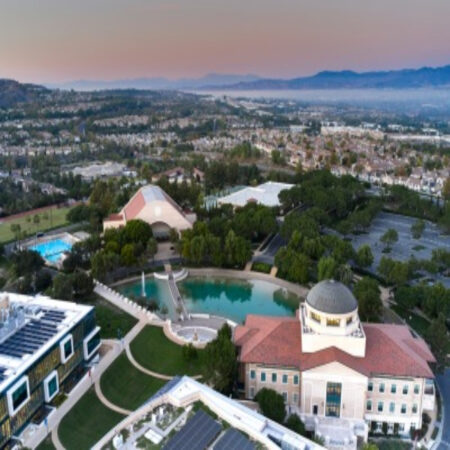 Grants and Scholarships 2023 at SOKA University of America
Soka University of America is delighted to welcome outstanding and qualified domestic and international candidates for Grants and Scholarships 2023/2024 academic session. This program is eligible to undergraduate students who wish to study in USA.
This scholarship is fully funded with a full tuition for general educational expenses. This program is hosted and sponsored by SOKA University of America, USA. This University scholarships are available to all domestic and international undergraduates who qualify. Eligibility requirements for outside scholarships vary, please check with each outside scholarship for criteria.
Soka University of America is a private liberal arts college in Aliso Viejo, California. Originally founded in 1987, it was established on its current campus in 2001 by Daisaku Ikeda, the founder of the Soka Gakkai International Buddhist movement. Though affiliated with Soka Gakkai, it maintains a secular curriculum which emphasizes pacifism, human rights, and the creative coexistence of nature and humanity.
SEE ALSO: International Admission Scholarships 2023 at University of Toronto
Institutional grants and scholarships are awards that are funded by the university to help students meet the challenge of funding their education at SOKA University of America. All grants and scholarships listed on this page are awards that are gifted to the student and do not need to be paid back to SUA.
These awards may be merit-based or need-based. They carry with them specific criteria and terms and conditions for renewal.
Scholarship Summary:
Scholarship Sponsor(s): SOKA University of America, USA
Host Institution(s): SOKA University of America, USA
Scholarship Worth: Full Tuition
Number of Awards: Several
Study Level: Undergraduates
Nationality: Domestic & International Students
Requirements and Eligibility Criteria for Grants and Scholarships 2023:
Applicants must be domestic or international students
Applicants must enroll in full-time degree program
Applicants must be in first year of studies in the University
Students who have demonstrated exceptional academic achievements are awarded the SOKA Merit Scholarship upon entrance to SOKA University
Eligibility is determined based on your application for undergraduate admission. All admitted students are given equal and automatic consideration for this award.
SEE ALSO: Alexander von Humboldt-German Chancellor Fellowship 2023
Application Procedures for the 2023/2024 Grants and Scholarships (how to apply):
Qualified candidtes for Grants and Scholarships at SOKA University of America are required to complete the Free Application for Federal Student Aid (FAFSA), international students should complete Soka's Financial Aid Application for International Students, and the Dream Financial Aid Application for Dreamer students.
Application Deadline: Not Stated
For more information about opportunity, Visit the Official Website.