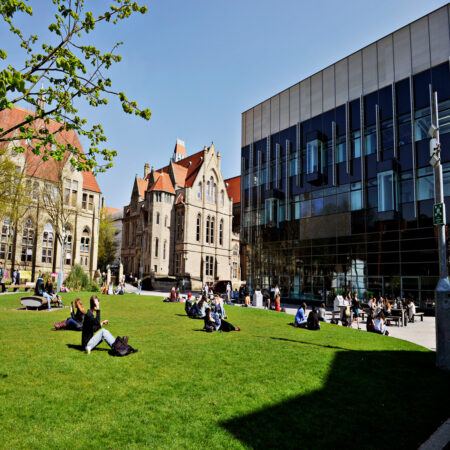 Global Futures Scholarship 2023 at University of Manchester
Global Futures Scholarship at University of Manchester is proud to offer scholarship awards to academically excellent students who wish to study in the UK. Students wishing to enroll for Undergraduates & Masters studies in the United Kingdom can take advantage of this program for the 2023/2024 academic session.
This scholarship is fully funded for qualified Undergraduates & Masters candidates from Bangladesh, Botswana. Egypt, Ghana, Hong Kong, India, Indonesia, Kenya, Malaysia, Nigeria, Pakistan, Singapore, South Africa, Sri Lanka, Taiwan, Tanzania, Thailand, United Arab Emirates, United States, Vietnam and Zimbabwe. This program is hosted and sponsored by the University of Manchester, UK.
The University of Manchester is a public research university in Manchester, England. The main campus is south of Manchester City Center on Oxford Road. The university owns and operates major cultural assets such as the Manchester Museum, The Whitworth art gallery, the John Rylands Library, the Tabley House Collection and the Jodrell Bank Observatory – a UNESCO World Heritage Site. The University of Manchester is considered a red brick university, a product of the civic university movement of the late 19th century. The current University of Manchester was formed in 2004 following the merger of the University of Manchester Institute of Science and Technology (UMIST) and the Victoria University of Manchester. This followed a century of the two institutions working closely with one another.
SEE ALSO: Department of Mathematics Scholarship Award 2023 at University of Manchester
This scholarship is open to both undergraduate and master's students holding an offer from The University of Manchester.
Evaluation will be based on academic merit and the quality of your scholarship application.
Scholarship summary:
Scholarship Sponsor(s): University of Manchester, UK
Host Institution(s): University of Manchester, UK
Scholarship Worth: Funded
Number of Awards: Several
Study Level: Undergraduates & Masters
Nationality: See eligible countries (below)
Requirements and Eligibility Criteria for Global Futures Scholarship 2023:
Applicants must be international students
Applicants must have an offer to study at the University
Applicants must be ready to enroll in full-time study program
Applicants studying in undergraduate or master's courses in the University
Applicants must have a proof of English Language proficiency.
Eligible Countries
The level of award, eligibility criteria and application deadlines differ for each region so check your country profile for specific details:
Bangladesh
Botswana
Egypt
Ghana
Hong Kong
India
Indonesia
Kenya
Malaysia
Nigeria
Pakistan
Singapore
South Africa
Sri Lanka
Taiwan
Tanzania
Thailand
United Arab Emirates
United States
Vietnam
Zimbabwe
SEE ALSO: Engineering the Future Scholarships 2023 at University of Manchester
Application Procedures for the 2023/2024 Global Futures Scholarship (how to apply):
To apply, you must hold an offer of a study place at The University of Manchester for a course that will commence in September 2023. You will then be required to submit an online application form which will be emailed to all relevant offer holders from February 2023 onward.
For further information you can contact the International Office.
Application Deadline: August 31, 2023
For more information about this opportunity, Visit the Official Website.