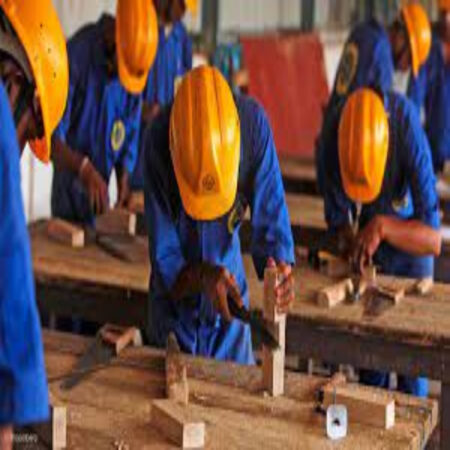 ArcelorMittal South Africa Apprenticeships Program 2024
Applications are currently being accepted for the 2024/2025 session of the ArcelorMittal South Africa Apprenticeship Program. Applicants in grade 12 and recent graduates from across the globe are strongly encouraged to apply.
This Career Opportunity program is an opportunity awarded to qualified Grade 12 & Recent graduates from across the globe. The Apprenticeship includes training related cost, Personal Protective Equipment, Payment of Institutional Training, On-site Personal Insurance, as well as, a monthly stipend. Opportunities are available across our Vanderbijlpark and Vereeniging Operations. The program which aims to provide candidates with access to classroom and on-the-job training will enable them to acquire knowledge and expertise in the chosen trade, as well as, obtain a trade certificate after the successful completion of their trade test. This program is organized by ArcelorMittal group and located at Gauteng, South Africa.
ArcelorMittal S.A. is a Luxembourg-based multinational steel manufacturing corporation headquartered in Luxembourg City. It was formed in 2006 from the takeover and merger of Arcelor by Indian-owned Mittal Steel. ArcelorMittal is the second largest steel producer in the world, with an annual crude steel production of 88 million metric tonnes as of 2022.It is ranked 197th in the 2022 Fortune Global 500 ranking of the world's largest corporations. It directly and indirectly employs around 200,000 people and its market capital is $25 billion. The total value of company assets is estimated to be around $100 billion.
SEE ALSO: Maastricht University NL-High Potential Scholarship 2024
Internship Summary:
Company/Organisation(s): ArcelorMittal group
Program Type: Career Opportunity
Program Location: Gauteng, South Africa
Program Duration: Varies
Available Slot: Several
Basic Qualifications: Grade 12 & Recent graduates
Nationality: Any Nationality
Requirement and Eligibility Criteria for ArcelorMittal South Africa Apprenticeships Program 2024:
Applicants must a minimum of a Grade 12 Qualification with English, Mathematics and Science
Applicable trade theory and an additional trade related technical subject would be advantageous
A team player who can also work independently
Driven, highly self-motivated
An agile thinker with excellent problem-solving skills
Great attention to detail and an aptitude for engineering
SEE ALSO: Government of Japan JET Programme 2024
Application Procedures for the 2024/2025 ArcelorMittal South Africa Apprenticeships Program (how to apply):
Interested applicants for ArcelorMittal group Apprenticeships Program, should click the 'Apply' button to sign up and submit application online.
Application Deadline: Not Stated
For more information about about this opportunity, Visit the Official Website.