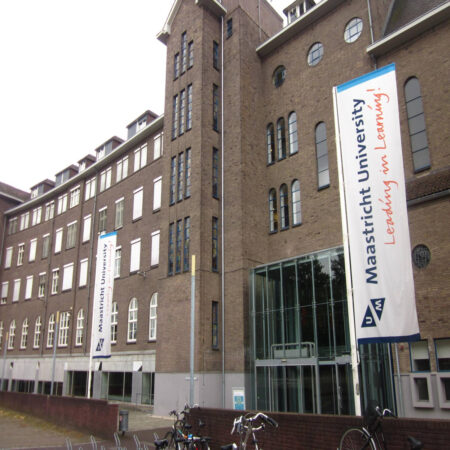 Maastricht University NL-High Potential Scholarship 2024
Applications are currently being accepted for the Maastricht University NL-High Potential Scholarships for the 2024/2025 academic year. Candidates from abroad who are pursuing master's degrees are particularly encouraged to apply.
This scholarship is an opportunity that offers €30,000 per annum to qualified international Masters candidates. The Maastricht University (UM) NL-High Potential Scholarship program offers 24 full scholarships each academic year for highly talented students from outside the European Union (EU) who have been admitted to a master's program at UM. This program is hosted and sponsored by Maastricht University (UM), Netherlands.
Maastricht University (abbreviated as UM) is a public research university in Maastricht, Netherlands. Founded in 1976, it is the second youngest of the thirteen Dutch universities. In 2021, 22,383 students studied at Maastricht University, 56% of whom were foreign students, with over 4,000 employees. About half of the bachelor's programs are fully offered in English, while the other half is taught wholly or partly in Dutch. Most of the master's and doctoral programs are in English. Besides traditional programs, Maastricht University also has three honors liberal arts colleges: University College Maastricht and the Maastricht Science Program in the same liberal arts tradition. The satellite University College Venlo opened in 2015. Maastricht University regularly ranks as one of Europe's leading universities. The university has been placed in the top 300 universities in the world by five major ranking tables. Maastricht University was at 88th place in the Times Higher Education World Ranking in 2016 (127th as of 2021), and 4th among Young Universities (6th in 2021).
SEE ALSO: Mastercard Foundation Scholarship 2024 at University of Toronto
The Scholarship program consists of both the High Potential Scholarship (funded by the Maastricht University Scholarship Fund), and the Holland Scholarship, which is financed by the Dutch Ministry of Education, Culture and Science in conjunction with Dutch universities and universities of applied sciences.
Scholarship Summary:
Scholarship Sponsor(s): Maastricht University (UM), Netherlands
Host Institution(s): Maastricht University (UM), Netherlands
Scholarship Worth: €30,000 per annum
Number of Awards: 24 Scholarships per year
Study Level: Masters
Nationality: International Students
Requirement and Eligibility Criteria for Maastricht University NL-High Potential Scholarship 2024:
Applicants hold nationality in a country outside the EU/EEA, Switzerland or Surinam and meet the requirements for obtaining an entry visa and residence permit for the Netherlands.
You do not hold a double nationality from an EU/EEA country.
You have applied for admission to a participating full-time master program at Maastricht University for the 2024-2025 academic year.
You meet the specific admission requirements of the UM master program to which you have applied.
You have never participated in a degree-seeking higher education program in the Netherlands. Students who have completed exchange programs in the Netherlands are welcome to apply.
You are not older than 35 years of age on 1 September 2024.
You have obtained excellent results during your prior education programs, as demonstrated by your latest grade transcript or certified by academic excellence. If several applicants are equally qualified, UM will give preference to applicants whose academic transcript or certified letter of academic excellence demonstrate that they are among the top 5% of the 2024-2025 scholarship program applicants.
Scholarship Benefits
The benefits for Maastricht University (UM) Holland-High Potential Scholarship are:
Living expenses € 12,350 (13 months) or € 23,750 (25 months)
Health & liability insurance
Visa application costs
Tuition fees
Pre-Academic Training costs
SEE ALSO: EPFL Summer Fellowship/Internships 2024
Application Procedures for the 2024/2025 Maastricht University NL-High Potential Scholarship (how to apply):
To be considered for Maastricht University (UM) Holland-High Potential Scholarship, applicants should adhere to the following steps:
Step 1: Register for one of the participating master programs at UM
For further details on how to register for a master program at UM, please see your prospective program's webpage. Once you have submitted your application via Studielink, you will receive a student ID number for UM. You will need a student number in order to complete and submit the Scholarship Application Form (see Step 2 below).
Step 2: Please fill in the application form, you need to log in with your UM account
Please use this link to fill out the application form. Applications are accepted only via the application form.
Application Deadline: February 01, 2024
For more information about this opportunity, Visit the Official Website.