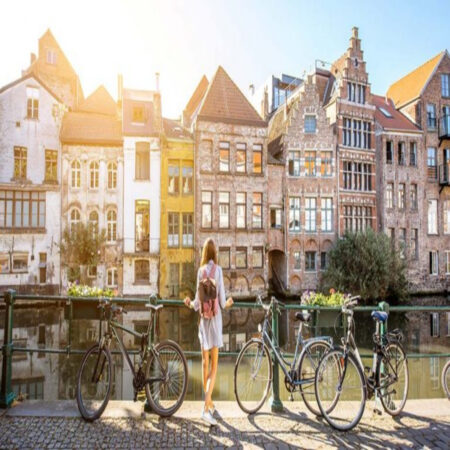 Flemish Government Master Mind Scholarships 2023
The Master Mind Scholarships for master's study programs in Flanders and Brussels are available to exceptional international students for the 2023/2024 academic session, according to the Flemish Ministry of Education and Training.
This scholarship is partially funded and an offer of €9 600 + a tuition fee waiver is given to qualified international Master candidates. The Flemish government launched the Master Mind Scholarship award program as a way to help international students attend top-tier universities and develop their research abilities. All qualified candidates are urged to submit an application for this fantastic scholarship opportunity. This program is sponsored by Flemish Ministry of Education and Training and is to be taken at Belgium.
SEE ALSO: FrieslandCampina Graduate Professional Scheme 2023
Scholarship Summary:
Scholarship Sponsor(s): Flemish Ministry of Education and Training
Scholarship to be taken at: Belgium
Scholarship Level: Masters
Scholarship Worth: €9 600 + a tuition fee waiver
Subject Eligibility: Courses tenable at the universities
Country Eligibility: International
Requirement and Eligibility Criteria for Flemish Government Master Mind Scholarships 2023:
The applicants must apply to take up a master's degree program at a Flemish higher education institution.
The applicant should have a high standard of academic performance and/or potential. The student has a Grade Point Average (GPA) of 3.5 out of 4.0.
The student has a good knowledge of English language with evidence.
Applicants must demonstrate strong leadership abilities.
Scholarship Benefits
A grant of €9 600 + a tuition fee waiver per academic year (60 ECTS)
The grant is paid in installments and covers accommodation costs, insurances and a significant amount of their living expenses
SEE ALSO: TransparencIT Civic Changemakers Fellowship Programme 2023
Application Procedures for the 2023/2024 Flemish Government Master Mind Scholarships (how to apply):
To apply for the 2023/2024 Government of Flanders Master Mind Scholarships you need to follow the below steps:
STEP 1 Check if you are eligible to apply and if the Flemish institution of your choice participates in the Master Mind Scholarships
STEP 2 Submit your application to the host institution
STEP 3 The host institution preselects the eligible applications
STEP 4 The host institution starts the application procedure for the Master Mind Scholarship by creating your application file in the Mobility-Online application tool
STEP 5 You receive an email generated by the Mobility-Online tool notifying you of being preselected for a Master Mind Scholarship
STEP 6 You register in the Mobility-Online tool and complete your application file in the Mobility-Online tool before the deadline.
Documents Requirements:
Passport photo
International passport or national ID
A Curriculum Vitae (including your American GPA out of 4.0 and if applicable your publications, academic awards, previous scholarships, etc.)
Transcript of records; if written in a language other than Dutch, French, German or English, a certified translation must be enclosed.
English language test results or letter of exemption provided by the host university
Letter of motivation written in English
Two letters of recommendation from professors of your (previous) home university written in English.
Copy of acquired diploma(s) with certified translation if not written in English.
Application Deadline: 30th April, 2023
For more information about this opportunity, Visit the Official Website.