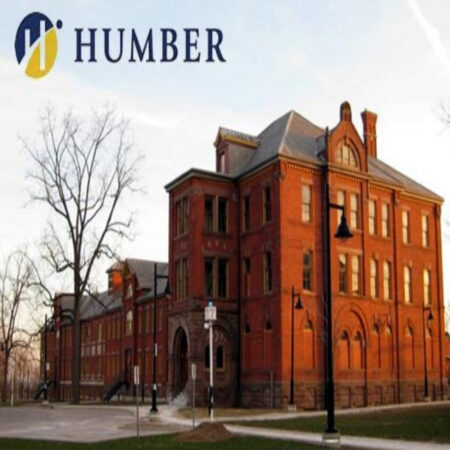 International Entrance Student Scholarships 2023 at Humber College
Humber College is pleased to offer International Entrance Student Scholarships to those who wish to enroll for Undergraduate and Postgraduate study in Canada for the 2023/2024 academic session.
This scholarship scheme is a fully funded opportunity that offers up to CAD 4000 for general expenses to qualified international Undergraduates and Postgraduate candidates. This program is hosted and sponsored by Humber College, Canada. The entrance scholarship is available for Graduate Certificate, Diploma and Advanced Diploma students joining Humber in 2023. The scholarship will serve to reduce the burden of enrolling in a study program in Canada.
The Humber College Institute of Technology & Advanced Learning, commonly known as Humber College, is a public College of Applied Arts and Technology in Toronto, Ontario, Canada. Founded in 1967, Humber has two main campuses: the Humber North campus and the Lakeshore campus. Humber also provides academic advisors and resources, such as a career finder.
SEE ALSO: Drever Trust MSc Scholarships 2023 at University of Edinburgh
Scholarship Summary:
Scholarship Sponsor(s): Humber College, Canada
Scholarship Type: Fully Funded Scholarships
Host Institution(s): Humber College, Canada
Scholarship to be taken in: Canada
Scholarship Worth: Up to CAD 4000
Study Level: Undergraduate and Postgraduate
Nationality: International students
Requirements and Eligibility Criteria for International Entrance Student Scholarships 2023:
The merit scholarship is for students with a high academic qualification (students with GPA 85%+ and 6.5+ IELTS (or equivalent in
TOEFL, Duolingo, senior high school grade in English) looking to be rewarded for their performance in the senior year of high school, college or university.
Scholarships will be awarded on the first come, first served basis for students that received their letter of Acceptance and confirm their offer
Students must be enrolled in a full-time academic program at Humber for the first time in order to be eligible for scholarships. In addition, students must have received an official offer of admission/letter of acceptance.
SEE ALSO: Miriam J. Kelley African Scholarship Grant Program 2023 at Michigan State University
Application Procedures for the 2023/2024 International Entrance Student Scholarships  (how to apply):
Interested applicants for the International Entrance Student Scholarships at Humber College, Canada are to submit an online application form on or before the application deadline.
Humber Student ID number
Confirmed Letter of Acceptance from Humber College for full-time program commencing in September 2023
Personal statement of interest-must include your Grade Point Average
2 reference letters
Application Deadline: 31 May, 2023
For more information about this opportunity, Visit the Official Website.