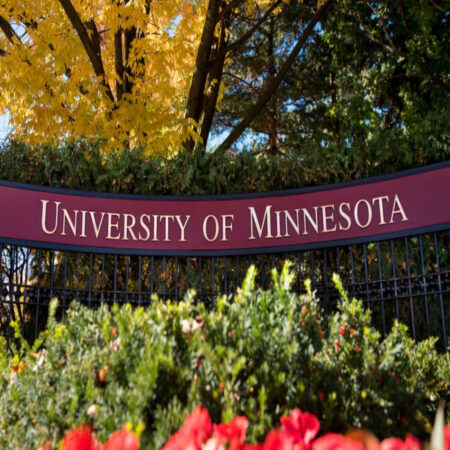 Global Excellence Scholarships 2023 at University of Minnesota
The University of Minnesota welcomes application from interested international candidates for Global Excellence Scholarships 2023/2024 academic session. This program is eligible to Undergraduate candidates.
This Tuition award is an opportunity that offers $10,000 – $25,000 per annum to qualified international Undergraduate students. Students selected for awards are among the best in their class and show a record of very strong academic preparation. For the 2023/2024 academic year, international freshman can receive scholarships of $25,000, $15,000, or $10,000 per year for up to four years. This program is sponsored by University of Minnesota, USA and is to be taken at University of Minnesota, USA.
The University of Minnesota is a public land-grant research university in the Twin Cities of Minneapolis and Saint Paul, Minnesota, United States. The Twin Cities campus comprises locations in Minneapolis and Falcon Heights, a suburb of St. Paul, approximately 3 mi apart. The Twin Cities campus is the oldest and largest in the University of Minnesota system and has the ninth-largest main campus student body in the United States, with 52,376 students at the start of the 2021–22 academic year. It is the flagship institution of the University of Minnesota System, and is organized into 19 colleges, schools, and other major academic units. The Minnesota Territorial Legislature drafted a charter for the University of Minnesota as a territorial university in 1851, seven years before Minnesota became a state. Today, the university is classified among "R1: Doctoral Universities – Very high research activity". Minnesota is a member of the Association of American Universities and is ranked 20th in research activity, with $1.04 billion in research and development expenditures in the fiscal year 2020. In 2001, the University of Minnesota was included in a list of Public Ivy universities, which includes publicly funded universities thought to provide a quality of education comparable to that of the Ivy League. University of Minnesota faculty, alumni, and researchers have won 26 Nobel Prizes and 3 Pulitzer Prizes. Among its alumni, the university counts 25 Rhodes Scholars, 7 Marshall Scholars, 21 Truman Scholars, and 134 Fulbright recipients. The university also has Guggenheim Fellowship, Carnegie Fellowship, and MacArthur Fellowship holders, as well as past and present graduates and faculty belonging to the American Academy of Arts and Sciences, National Academy of Sciences, National Academy of Medicine, and National Academy of Engineering.
SEE ALSO: Ursinus Gateway International Scholarship 2023
Transfer students may receive $10,000 per year for up to three years when entering the University in the Fall semester. Transfer students entering in the Spring semester will be considered for scholarships on a funds-available basis.
Students must maintain their F-1 immigration status to remain eligible for these scholarships. If you have been awarded a Global Excellence Scholarship and have questions about the award, please view the Frequently Asked Questions on the International Student and Scholar Services website.
Scholarship Summary:
Scholarship Sponsor(s): University of Minnesota, USA
Scholarships to be taken at: University of Minnesota, USA
Scholarship Type: Tuition award
Scholarship level: Undergraduate
Scholarship Worth: $10,000 – $25,000 per annum
Country/Candidate Eligibility: International students
Requirement and Eligibility Criteria for Global Excellence Scholarships 2023:
Applicants must be international students.
Students admitted into undergraduate degree program.
The award is available for undergraduate courses offered at the University.
Based on academic merit
Students enrolling full time in the Honors program in the semester for which the scholarship is awarded.
Exceptional personal success skills (e.g., emotional maturity, motivation, perseverance, etc.)
A high school transcript and/or GSE results (if your transcript is not in English, also require a certified translation).
Applicants must have a High school certificate or equivalent.
Candidates must be highly motivated, responsible, and able to work independently in a structured manner and as good interpersonal and communication skill.
Applicants must hold an offer for a full-time program at University of Minnesota, USA
Application process based on merit and evidence of leadership.
English Language Requirement: Applicants are required to provide evidence of meeting the University of Minnesota's minimum English language proficiency requirements.
SEE ALSO: Ramapo College Merit-Based Scholarships 2023
Application Procedures for the 2023/2024 Global Excellence Scholarships (how to apply):
Students are evaluated overall based on their timely entrance application; no additional scholarship application is necessary. All foreign transfer and freshmen applicants who submit their documents by the deadlines will be automatically considered for a Global Excellence Scholarship.
Application Deadline: Updated Yearly
For more information about this opportunity, Visit the Official Website.