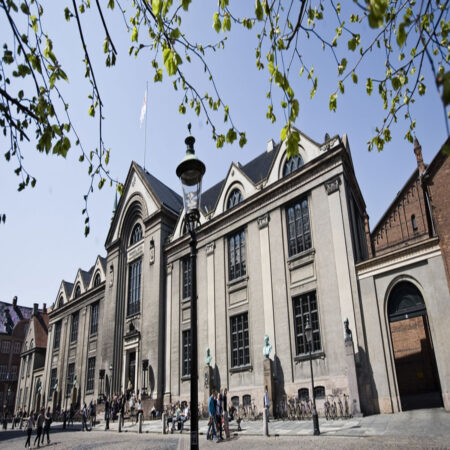 University of Copenhagen PhD Positions 2023
The University of Copenhagen is delighted to welcome outstanding and qualified domestic and international candidates for their PhD Positions 2023/2024 academic session. This program is eligible to PhD candidates who wish to study in Denmark.
This scholarship is a full funding opportunity given to qualified domestic and international PhD students. This program is sponsored and hosted by University of Copenhagen, Denmark. Unusually, this particular PhD position is offered in collaboration with the Royal Danish Defence College (RDDC). The PhD will be assigned a co-supervisor from the RDDC and is expected to divide his/her time between the two institutions. This program provides an excellent opportunity to research contemporary legal issues in an intellectually stimulating environment.
The University of Copenhagen is a prestigious public research university in Copenhagen, Denmark. Founded in 1479, the University of Copenhagen is the second-oldest university in Scandinavia after Uppsala University. The University of Copenhagen consists of six different faculties, with teaching taking place in its four distinct campuses, all situated in Copenhagen. The university operates 36 different departments and 122 separate research centers in Copenhagen, as well as a number of museums and botanical gardens in and outside the Danish capital. The University of Copenhagen also owns and operates multiple research stations around Denmark, with two additional ones located in Greenland. Additionally, The Faculty of Health and Medical Sciences and the public hospitals of the Capital and Zealand Region of Denmark constitute the conglomerate Copenhagen University Hospital.
SEE ALSO: ASU Global Education Planning Scholarship 2023
The PhD scholarship is fully funded and salaried. The position can commence in December this year. The start date is negotiable. The PhD will be part of the wider PhD Program offered by the Faculty of Law.
The goal of the PhD Program is threefold: to prepare candidates for a continuing career in teaching and research; to educate a new generation of scholars to produce high-quality independent research; and to equip them with the analytical and problem-solving skills required for a successful career in both the public and private sectors.
Scholarship Summary:
Scholarship Sponsor(s): University of Copenhagen, Denmark
Host Institution(s): University of Copenhagen, Denmark
Scholarship Worth: Full Funding
Number of Awards: Several
Study Level: PhD
Nationality: Domestic & International Students
Requirement and Eligibility Criteria for University of Copenhagen PhD Positions 2023:
The award is available for both domestic and international students.
Applicants must have obtained a degree that corresponds to the Danish Master of Laws degree which is a second cycle 120 ECTS degree (two years of full-time studies), that builds on a 180 ECTS bachelor's degree (three years of full-time studies) or equivalent qualifications. Applicants with a non-Danish Master's degree will have their degree assessed by the Ministry of Higher Education and Science in order to establish, if the Master's degree is equivalent to a Danish Master's degree.
Applicants must have obtained a minimum overall grade average of 8.2 or above at the Master's level in accordance with the Danish grading scale (for Danish scale, see here ).
Applicants may submit their application before they have completed their Master's Degree. The Master's degree must be obtained before the start date.
Applicants must document an aptitude for research through the meritorious assessment of their final thesis, publications or academic recommendations in order to show that they are capable of undertaking the demanding task of writing a PhD thesis.
Applicants must have excellent language skills in English and have excellent communications skills. Applicants must be able to teach at an academic level in Danish or English and to follow PhD courses in English.
SEE ALSO: International Academic Excellence Scholarship 2023 at Griffith University
Application Procedures for the 2023/2024 University of Copenhagen PhD Positions (how to apply):
Successful applicants must submit their applications using the online application form. After the application deadline, the Associate Dean of Research will pre-select PhD applications that, at the Selection Committee's recommendation, will move on to the assessment stage.
In accordance with the recruitment needs of the Faculty as outlined in this job announcement, candidates are pre-selected for further evaluation. Before starting your online application, applicants are advised to have the following documents available (see complete instructions at the official application page):
Research project proposal
Curriculum vitae (maximum 2 pages)
Diplomas and transcripts
Grading scale
Letter of motivation
Documentation of English level
Submit your application electronically in English.
Application Deadline: Not Specified
For more information about this opportunity, Visit the Official Website.