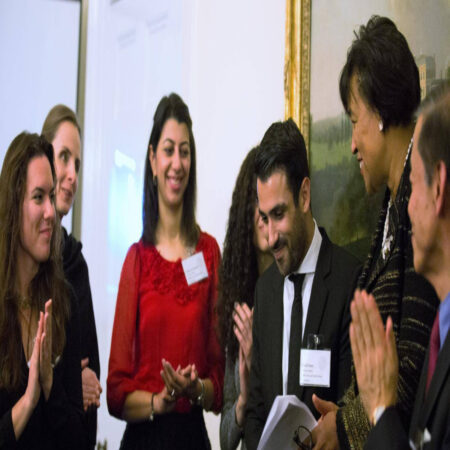 Mo Ibrahim Foundation Academy Fellowship 2023
Applications are invited from suitably qualified Africans for the Mo Ibrahim Foundation academy Fellowship 2023, a joint initiative between the Mo Ibrahim Foundation and Chatham House.
This Graduate Fellowship program is a partially funded scheme and a non refundable offer of £2,365 per month is given to qualified candidates. This program is sponsored by Mo Ibrahim Foundation/ Chatham House and hosted by Chatham House, London. The fellowship offers candidates at the early-to-mid-stage of their career the opportunity to spend ten months at Chatham House working on an individual research project of their choosing where the fellows develop their skills through the leadership program and further their professional network in the field of international affairs.
The Mo Ibrahim Foundation is an African foundation founded by Sudanese-British businessman and philanthropist, Mo Ibrahim. Headquartered in London and Dakar, the Foundation was established in 2006 as a non-grant making organization. It works to strengthen sound governance and leadership in Africa through its key initiatives: Ibrahim Index of African Governance, Ibrahim Prize for Achievement in African Leadership, Ibrahim Governance Weekend, Ibrahim Fellowships and Scholarships and the Now Generation Network. The Foundation is chaired by Mo Ibrahim. Other board members include Valerie Amos, Jin-Yong Cai, Nathalie Delapalme, Jendayi Frazer, Hadeel Ibrahim, Hosh Ibrahim, Abdoulie Janneh, Donald Kaberuka, Pascal Lamy, Graça Machel, Jay Naidoo, Mary Robinson, Ngaire Woods, and Zeinab Badawi.
Chatham House, also known as The Royal Institute of International Affairs, is an independent policy institute headquartered in London. Its stated mission is to provide commentary on world events and offer solutions to global challenges. It is the originator of the Chatham House Rule. It was founded in 1920.
SEE ALSO: Stanford MBA Fellowship 2023
Fellowship Summary:
Fellowship Sponsors: Mo Ibrahim Foundation/ Chatham House
Program Type: Graduate Fellowship
Program Location: Chatham House, London
Program Duration: 10 Months
Available Slot: Several
Basic Qualifications: Not specified
Nationality: Africans
Requirement and Eligibility Criteria for Mo Ibrahim Foundation Academy Fellowship 2023:
Applicants must be African citizens. Applications will also be accepted from applicants holding dual nationality which includes any African country.
Applicants must have completed a BA degree or its equivalent and have experience with conducting research.
There is no age restriction.
Applicants should be at the early-to-mid-stage of their career and come from one of the following fields or work: academia, NGO, business, government departments, civil society or the media.
All applicants should possess knowledge of, and an interest in, international affairs, their chosen area of research, and Chatham House's mission and research.
Benefits
Monthly stipend of £2,365 to cover living expenses in London including accommodation, utilities, food, transport and other basic expenses.
Relocation costs.
Visa cost
Immigration Healthcare Surcharge
Fieldwork and travel costs.
Research activities and possible publication costs
SEE ALSO: International Masters Scholarship 2023 at Edith Cowan University
Application Procedures for the 2023/2024 Mo Ibrahim Foundation Academy Fellowship (how to apply):
Interested applicants for the Mo Ibrahim Foundation Academy Fellowship 2023 are to apply online and provide all the required information and documents.
Document Requirements:
Applicant's CV/resume
Applicant's proposal for a research project
Application Deadline: 5th May 2023 at 10am BST
For more information about this opportunity, Visit the Official Website.