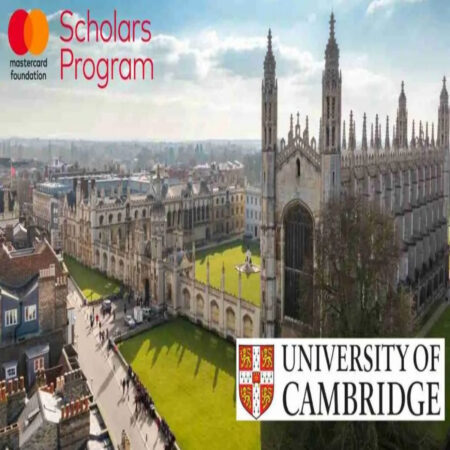 Mastercard Foundation Scholars Program 2023 at the University of Cambridge
The University of Cambridge is pleased to offer Mastercard Foundation Scholars Program application to interested and qualified African candidates who intend to enroll in Masters degree programs at the University for the 2023/2024 academic session.
This Full Funding scholarship is an opportunity awarded to qualified African Master students. This program is sponsored by Mastercard Foundation and hosted by University of Cambridge, UK. The Mastercard Foundation Scholars Program at Cambridge is designed to provide talented students from economically marginalized and hard-to-reach communities in Africa with fully-funded opportunities to complete their Master's training, grow in transformative leadership, and contribute to climate resilience and sustainability in Africa.
The Mastercard Foundation is an international non-governmental organization established by Mastercard in 2006. The organization, which is based in Toronto, Ontario, has supported work in 49 countries. In 2018, Mastercard Foundation shifted to a specific focus on Africa, through its Young Africa Works strategy. The foundation develops programs primarily focused on reducing gender and economic inequality, expanding access to quality education, increasing the opportunities for decent work, and supporting overall economic growth. Funding is primarily managed with bilateral allocations through post-secondary institutions, research institutes, non-governmental organizations and the private sector, plus multilateral allocations through organizations like the numerous United Nations entities under the United Nations Sustainable Development Group.
The University of Cambridge is a public collegiate research university in Cambridge, England. Founded in 1209, the University of Cambridge is the world's third-oldest university in continuous operation. The university's founding followed the arrival of scholars who left the University of Oxford for Cambridge after a dispute with local townspeople. The two ancient English universities, although sometimes described as rivals, share many common features and are often jointly referred to as Oxbridge. In 1231, 22 years after its founding, the university was recognized with a royal charter granted by King Henry III. The University of Cambridge includes 31 semi-autonomous constituent colleges and over 150 academic departments, faculties, and other institutions organized into six schools. The university operates eight cultural and scientific museums, including the Fitzwilliam Museum and Cambridge University Botanic Garden. Cambridge's 116 libraries hold a total of approximately 16 million books, around nine million of which are in Cambridge University Library, a legal deposit library and one of the world's largest academic libraries.
SEE ALSO: University of the Western Cape Mastercard Scholarship 2023
Scholarship Summary:
Scholarship Sponsor(s): Mastercard Foundation
Scholarship Type: Full Funding
Host Institution(s): University of Cambridge, UK.
Scholarship Worth: Not specified
Number of Awards: Several
Study Level: Postgraduate (Masters)
Nationality: Africans
Requirement and Eligibility Criteria for Mastercard Foundation Scholars Program 2023:
Must be a citizen of an African country and demonstrate that they are from an economically marginalized, or economically disadvantaged, background.
Must be ordinarily resident in an African country unless you can show temporary absence for study/work with an intention to return or unless you have been displaced.
Must be applying for a one-year Master's course at the University of Cambridge.
Prospective Scholars can apply across a wide range of disciplines.
Scholarship Benefits
Covers the cost of travel and visas.
Accommodation and meals.
Allowance for a laptop.
health cover
A living stipend.
Tuition costs
SEE ALSO: KPMG Scholarships Programme 2023
Application Procedures for the 2023/2024 Mastercard Foundation Scholars Program (how to apply):
Interested applicants for the Mastercard Foundation Scholars Program at the University of Cambridge are to first apply for admission into an eligible program at the University of Cambridge before the deadline.
As part of the application process in the University's graduate application portal, students are asked to select funding bodies they are interested in applying to. A range of options are presented to the applicant. Once you select the Mastercard foundation scholars program, you would be required to submit a mandatory personal statement. Applicants will be required to complete their application by the application deadline.
Application Deadline: 5 December 2023
For more information about this opportunity, Visit the Official Website.