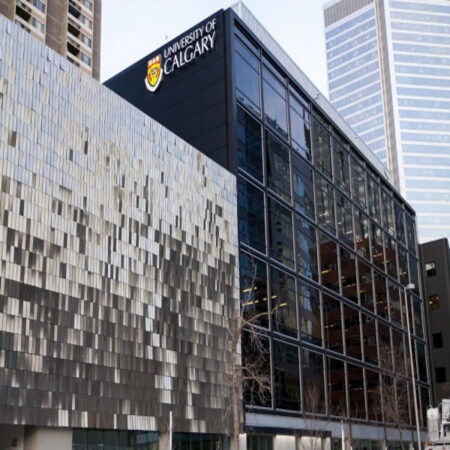 Energizing Canada International Entrance Scholarship 2024 at University of Calgary
Applications are hereby invited from suitably qualified candidates wishing to apply for the Energizing Canada International Entrance Scholarship at University of Calgary for the 2024/2025 academic session. This program is offered to international undergraduate candidates who wish to study in Canada.
This scholarship is an opportunity that offers $20,000 (Renewable) to qualified international undergraduate candidates. This program is sponsored by Joseph and Cindy Leung and hosted by University of Calgary, Canada. This program is Renewable in the second, third and fourth year at the University of Calgary, provided recipients achieve a minimum GPA of 3.00 over a minimum of 24.00 units in the previous fall and winter terms.
The University of Calgary (U of C or UCalgary) is a public research university located in Calgary, Alberta, Canada. The University of Calgary started in 1944 as the Calgary branch of the University of Alberta, founded in 1908, prior to being instituted into a separate, autonomous university in 1966. It is composed of 14 faculties and over 85 research institutes and centers. A member of the U15, the University of Calgary is also one of Canada's top research universities (based on the number of Canada Research Chairs). The university has a sponsored research revenue of $380.4 million, with total revenues exceeding $1.2 billion. The university maintains close ties to the petroleum and geoscience industry through the Department of Geosciences and the Schulich School of Engineering. The university also maintains several other departments and faculties, including the Cumming School of Medicine, the Faculty of Arts, the School of Public Policy, the Faculty of Law, and the Haskayne School of Business.
SEE ALSO: Commonwealth Split-Site PhD Scholarships 2024
Scholarship Summary:
Scholarship Sponsor(s): Joseph and Cindy Leung
Host Institution(s): University of Calgary, Canada
Scholarship Worth: $20,000 (Renewable)
Number of Awards: 1
Study Level: Undergraduates
Nationality: International Students
Requirement and Eligibility Criteria for Energizing Canada International Entrance Scholarship 2024:
Applicants must be international students
Applicants must have Academic merit
Applicants must be in Financial need
Applicants must have graduated from a recognized high school in China, including Hong Kong and Macau
Preference to a student entering the Bachelor of Engineering, Bachelor of Commerce, Bachelor of Health Sciences, or Bachelor of Arts – Urban Studies program
SEE ALSO: DAAD/AGI Research Fellowship Program 2024
Application Procedures for the 2024/2025 Energizing Canada International Entrance Scholarship (how to apply):
Interested and eligible applicants seeking for Energizing Canada International Entrance Scholarship, you must first apply for admission. You will be given access to the award application 24 to 48 hours after you have submitted your application for admission.
Application Deadline: Not Specified
For more information about this opportunity, Visit the Official Website.