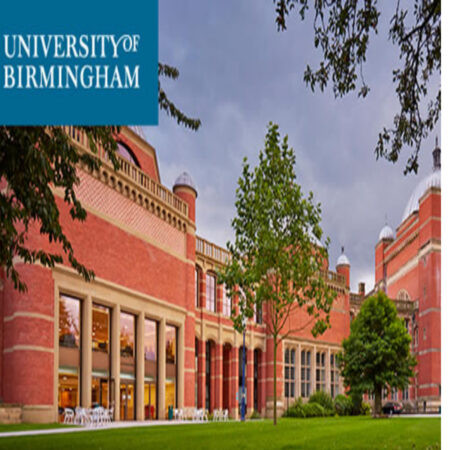 DeepMind Postgraduate Scholarship 2023 at University of Birmingham
The University of Birmingham is proud to offer scholarship awards to academically excellent students from developing countries who wish to enroll for their Masters studies at the university to submit application for the DeepMind Postgraduate Scholarship 2023/2024 academic session.
This Fully Funded Scholarships is an opportunity for qualified Masters students from developing countries who are financially challenged to finish their studies in their country. This program is hosted and sponsored by the University of Birmingham. The University of Birmingham, with support from DeepMind, is committed to increasing accessibility to and enhancing diversity of underrepresented groups in computer science.
The University of Birmingham is a public research university located in Edgbaston, Birmingham, United Kingdom. It received its royal charter in 1900 as a successor to Queen's College, Birmingham (founded in 1825 as the Birmingham School of Medicine and Surgery), and Mason Science College (established in 1875 by Sir Josiah Mason), making it the first English civic or 'red brick' university to receive its own royal charter, and the first English unitary university. It is a founding member of both the Russell Group of British research universities and the international network of research universities, Universitas 21.
SEE ALSO: DeepMind Scholarship 2023 at Queen Mary University of London
Scholarship Summary:
Scholarship Sponsor(s): University of Birmingham
Scholarship Type: Fully Funded Scholarships
Host Institution(s): University of Birmingham
Scholarship Worth: See Benefits (below)
Number of Awards: 3 Scholarships Available
Study Level: Masters
Nationality: Developing Countries
Requirement and Eligibility Criteria for DeepMind Postgraduate Scholarship 2023:
Identify as female OR Identify as Black African, Black Caribbean or other Black ethnicity.
Applicants must also:
Be able to demonstrate that they would not be able to take up the offer of admission without financial assistance.
Have already received a conditional/unconditional offer to study the MSc Artificial Intelligence and Machine Learning at the University of Birmingham; and
Be ordinarily resident in the UK and would be classified as UK for fee paying purposes.
Scholarship Benefits
The scholarship, valued at £47,680 for international students and valued at £29,860 each for UK students, is applied against:
International tuition fees – £26,640 / UK tuition fees – £10,620
A maintenance grant of £15,840 (to use for living costs), paid in installments over the duration of the course
Funding of up to £2,000 to attend an international conference in the field of AI and/or Machine Learning during the course as well as £1,500 towards purchase of essential equipment (suitable laptop etc.).
£1700 to assist with relocation expenses
SEE ALSO: Access Bank/ Udacity Advance Africa Scholarship Program 2023
Application Procedures for the 2023/2024 DeepMind Postgraduate Scholarship (how to apply):
The interested applicant needs to first apply for a conditional or an unconditional offer of admission before opting in for the scholarship. Applications are now being accepted through the online form. Please only make an application once you have received a conditional/unconditional offer, as you will not be considered until you hold one.
Application Deadline: 04 June 2023.
For more information about this opportunity, Visit the Official Website.