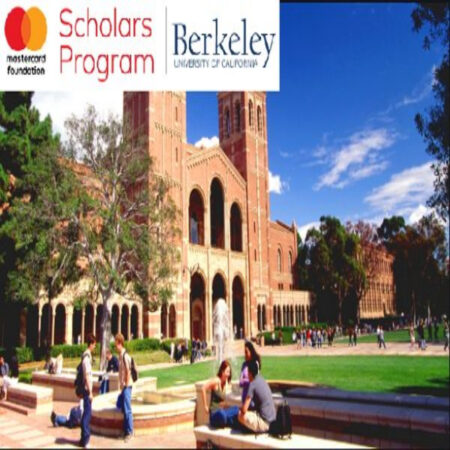 Berkeley's Mastercard Foundation Scholar Program 2023
For Berkeley's Mastercard Foundation Scholar Program for the 2023/2024 academic year, applications from academically gifted and suitably prepared African individuals are encouraged. Masters candidates are eligible for this program.
This Full Funding scholarship is an opportunity offered to qualified African Masters candidates. This program is sponsored by Center for African Studies and Mastercard Foundation and hosted by University of California, Berkeley. The Center for African Studies and the Mastercard Foundation are engaged in a ten-year partnership to support 108 master's degree students from Sub-Saharan African countries who are academically talented and committed to transformative change on the continent.
The University of California, Berkeley (UC Berkeley, Berkeley, Cal, or California), is a public land-grant research university in Berkeley, California. It was established in 1868 as the University of California and is the state's first land-grant university and the founding campus of the University of California system. Berkeley has been regarded to be among the top universities in the world for research. A founding member of the Association of American Universities, Berkeley hosts research institutes dedicated to science, engineering, and mathematics. The university founded and maintains relationships with three national laboratories at Berkeley, Livermore and Los Alamos, and played a role in the Manhattan Project and the discovery of 16 chemical elements. Berkeley's athletic teams, which compete as the California Golden Bears primarily in the Pac-12 Conference, have won 107 national championships, and its students and alumni have won 223 Olympic medals (including 121 gold medals).
SEE ALSO: Mastercard Foundation Scholars Program 2023 at the University of Cambridge
Scholarship Summary:
Scholarship Sponsor(s): Center for African Studies and Mastercard Foundation
Scholarship Type: Full Funding
Host Institution(s): University of California, Berkeley.
Scholarship Worth: Not specified
Number of Awards: Several
Study Level: Postgraduate (Masters)
Nationality: Africans
Requirement and Eligibility Criteria for Berkeley's Mastercard Foundation Scholar Program 2023:
Being a citizen of a Sub-Saharan African country: This includes Africans who are refugees or displaced within the African continent. This scholarship is not intended for citizens of North African countries. Those with dual citizenship, asylee, refugee or permanent resident status in the US, Canada, UK or EU are not eligible.
Having academic talent: All prospective Scholars must first be admitted to a UC Berkeley master's degree program to be considered for the Scholarship. An important criteria for admission to the University is demonstrated academic excellence.
Demonstrating leadership potential: The Program seeks those committed to developing the skills and mindsets associated with transformative leadership, i.e, that which engages others in an ethical manner to generate positive and lasting change.
Coming from a socio-economically disadvantaged background: This Scholarship is designed for those extremely talented individuals who might not otherwise have access to quality further education.
Having demonstrated the commitment to give back to your community, country, or continent: Well-rounded students who are engaged in activities beyond the classroom. Some may be directly related to your field of study, but this may also include other issues (social, economic, political) that you are working on and passionate about. Applicants should elaborate on their achievements both in their application to UC Berkeley, and then later in the Scholarship application.
Having expressed the desire and intention to return to your home country after completing your studies: Students who are engaged with and passionate about issues affecting their communities, and who will take advantage of their education at UC Berkeley to better equip themselves with the knowledge and training to address these issues upon return.
SEE ALSO: Engen Graduate Trainee Program 2023
Application Procedures for the 2023/2024 Berkeley's Mastercard Foundation Scholar Program (how to apply):
Interested applicants for the Berkeley's Mastercard Foundation Scholar Program 2024 are to first apply to a graduate program before they will be considered for the Mastercard Foundations Scholars Program. After apply for admission into an eligible program at Berkeley, applicants can then proceed to apply for a UC Berkeley Mastercard Foundation program.
Application Deadline: Varies according to Program
For more information about this opportunity, Visit the Official Website.