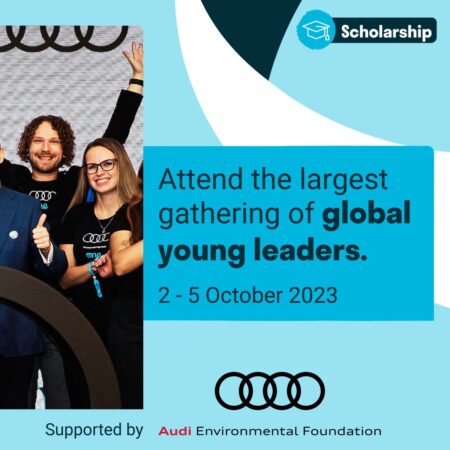 Audi Environmental Foundation Scholarship 2023 by One Young World
The 2023 Audi Environmental Foundation Scholarship by One Young is now fully open for applications to international candidates who wish to continue their educational pursuit in Belfast, UK.
This scholarship program is a funding scheme hosted by One Young World Summit to provide outstanding students with a fully funded award to enable them change and tackle the climate crisis through innovative new technologies, the advancement of climate education, or the preservation of ecosystems through halting or reversing land degradation. The scholarship is sponsored by Audi Environmental Foundation and is open to all international students pursuing their postgraduate studies.
One Young World has over the years proven to be one of the best organization when it comes to financial aid to international students by providing series of scholarship programs, thus exposing young leaders to various civil societies and companies.
SEE ALSO: Dean's Doctoral Scholarship Awards 2023/2024 at University of Manchester
The Audi Environmental Foundation actively supports research into new technologies and scientific methods for a livable future. Its stated goal is to make a contribution to environmental protection and to create and promote ways of behaving sustainably.
The Foundation focuses in particular on promoting and developing environmentally compatible technologies, measures for environmental education, and protecting the natural necessities of life for humans, animals, and plants. It was established in 2009 by AUDI AG as a 100-percent subsidiary and is part of the company's social and environmental commitment.
Scholarship Summary:
Scholarship Sponsor(s): Audi Environmental Foundation
Host Institution(s): One Young World Summit
Scholarship Worth: Fully-funded
Number of Awards: Several
Study Level: Postgraduates
Nationality: International Students
Requirements and Eligibility Criteria for One Young World Audi Environmental Foundation Scholarship 2023:
Applicants from all nationalities
Aged 18 – 30.
Nationals of all countries will be eligible to apply for this scholarship.
Evidenced commitment to delivering positive change.
Demonstrated capacity for leadership.
Understanding of key local and/or global issues.
Track record of generating impactfull and innovative solutions.
Demonstrated impact and innovation in tackling environmental challenges.
Scholarship Benefits
Access to the One Young World Summit 2023 in Belfast, UK.
Hotel accommodation in Manchester between 2 – 5 (inclusive) October 2023.
Participation at the pre-event by Audi AG and the Audi Environmental Foundation on 1 October 2023.
The cost of travel to and from Belfast (flights in economy).
Catering which includes breakfast, lunch, and dinner.
Transport between the Summit accommodation and the Summit venue.
Application Procedures
SEE ALSO: Australia Awards Africa Scholarship 2023/2024 Program
Application procedure for the 2023/2024 Audi Environmental Foundation Scholarship (how to apply):
Interested applicants who meet the above requirements and eligibility criteria for this scholarship opportunity should submit application online on or before the deadline.
To be considered for One Young World Audi Environmental Foundation Scholarship applicants should submit application online.
Application Deadline: March 22, 2023
For more information about this opportunity, Visit the Official Website.